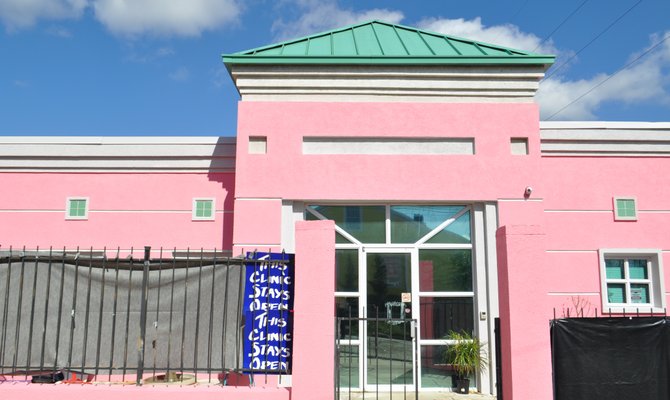 Firestorm Abortion Clinic | Jackson Free Press
Shortly after noon on Wednesday, an ambulance arrived at the Jackson Women's Health Organization, Mississippi's last abortion clinic. Photo by Trip Burns
Shortly after noon on Wednesday, an ambulance arrived at the Jackson Women's Health Organization, Mississippi's last abortion clinic.
But the commotion was only just beginning.
Diane Derzis, owner of the clinic who became involved in a legal battle over a state law implemented in 2012, said the clinic was proactive in transporting the patient to a hospital for observation.
"This is a medical procedure. There are risks, and we will do what is necessary," Derzis told the Jackson Free Press this morning. Derzis added that the woman "was fine when she left the clinic".
The incident reignited the debate on the safety of abortions. Last year, the state legislature passed a law that requires all abortion providers in Mississippi to be granted admitting privileges to a local hospital. A federal court allowed JWHO to remain open while it tried to comply with the law, but the clinic was unsuccessful. A status hearing will take place next week.
Yesterday's events also sparked a social media battle between clinic supporters and abortion opponents, sparked in part by a story on The Clarion-Ledger website.
The unsigned story used photographs provided by the Pro-Life Mississippi abortion opposition group of emergency medical technicians putting the patient in an ambulance.
Derzis called the story an example of "unprofessional journalistic ethics".
"I just find it insensitive," she said. "It's beyond pallor. It's amazing."
An email to Clarion-Ledger City editor Sam R. Hall requesting comment was not returned until press time.
In the past 24 hours, supporters of the clinic have triggered an avalanche of comments on the Clarion-Ledger site criticizing both the daily's coverage and the abortion clinic protesters who took the photos. Volunteers say Dana Chisolm, president of the nonprofit group Pro-Life Mississippi, exclaimed "Hallelujah! when the ambulance arrived.
"In my opinion, it's not very 'pro life'," commented Laurie Roberts, the clinic's lead escort who also writes for the Jackson Free Press, on Ledger's website. "Why would you want to rejoice because someone else is sick? … It takes a sad person to rejoice over someone else's illness."
Chisolm spoke up on her own, commenting via Facebook (emphasis added): "I am NOT happy that EVERYONE is suffering. I would like the suffering of women and the death of babies to end. I will rejoice. when that stops happening. weekly at 2903 N. State Street, Jackson, MS. "
Derzis also noted that the fact that the patient was admitted to the hospital proves that the law on admitting privileges is not necessary.
"It doesn't say anything about patient or women's safety. It's about bankrupting us," Derzis said.